Events make up a sizable portion of many companies' overall marketing budgets. In fact, many businesses set aside 21 to 50 percent of their budgets for brand experiences, with events accounting for the lion's share of this spending. Live events are so powerful that the vast majority of C-Suite executives (87%) intend to invest more in them in the future.
Given the strength of in-person and virtual experiences and the potential to create one-on-one interactions, many marketers believe that event marketing is the single most effective marketing channel overall. It is not surprising when we know that 84% of event attendees claim that following the event, they have a more favorable perception of the organization, brand, good, or service being advertised.

Indeed, companies that over-achieved their performance objectives spend 1.7x the average marketing budget on live events, and the majority of companies that grow by over 30% have increased their event activities.

Whether you choose to host a virtual, hybrid, or physical event, organizing and hosting an event can however be an arduous task. But when done effectively with a well-thought-out plan, the benefits are significant. There are several benefits to adding events to your marketing plan:


Event marketing generates revenue - 52% of business owners claim that event marketing is the marketing channel that drives the most ROI and 95% of marketers consider event marketing to be the most important way to achieve business goals.

Event marketing builds authentic relationships with clients - 93% of marketers believe in-person events provide attendees with a valuable opportunity to form connections in an increasingly digital world.

Event marketing increases brand recognition - 64% of event marketers reported that the primary reason for hosting events is brand awareness for their company or products.

There are numerous ways to use event marketing effectively and profit from it. Here are our Top 14 event marketing ideas to leverage your business goals with this channel.

Disclosure: This content includes affiliate links, which means that if you click on them, we will get a commission (without any extra cost).



Wondering what Event Marketing Ideas to achieve your business goals?
Let's take a closer look at the best event marketing ideas to leverage your marketing objectives.


1. Create a unique show where the music BPM is synced with the DJ's heart rate

Idea by Massimo Martinez

Provide a truly unique DJ experience for the crowd using a heart rate monitor that allows the BPM of the song to sync with the DJ's own heart rate. Allow your company's products or technical know-how to create a new twist on the typical DJ performance that puts the DJ at the center of the evening, but allows the music to always keep up with the level of energy the crowd needs. See full idea




2. Host a series of soapbox races to showcase your family-driven values

Idea by Jayden-Lee Finley

Make sure that everybody knows how important family is to your company by hosting a series of soapbox races where each participating family team must build their racecar out of your company's products. This racing event can be open to current and potential customers, employees, partners, and suppliers. Those who are wishing to participate must first stop by one of your locations to register and pick up their instructions and equipment. See full idea




3. Host a drug & alcohol-free vegan festival to bring customers closer to nature

Idea by Niyah Hines

Position your company as the leader in natural lifestyle by hosting a drug and alcohol-free vegetarian or vegan festival. This family-friendly event will be an intimate and joyful gathering that celebrates community and brings your consumers closer to each other, as well as closer to nature. The event will include permaculture, painting, circus workshops to mix it up, meditation sessions, live music performances and alternative treatment sessions like yoga and Tai Chi Gun. See full idea




4. Host a marketplace where customers can meet your food and beverage providers

Idea by Effie Beaumont

Increase both the traffic in your establishment and your sales by creating an inviting new event that allows customers to come and meet your food and beverage providers. This event takes the form of a marketplace outside of your establishment, with each supplier creating their very own booth where they can provide samples of their products and answer customers' questions. Attendees are invited to purchase the products they sampled at your location or order them off a special menu. See full idea




5. Invite entrepreneurs to literally make a big jump into entrepreneurship world

Idea by Jerry Gentry

Your company works hard to provide support for entrepreneurs and their latest business endeavours. Take your support one step further by hosting an activation called the "Start-Up Jump" that invites all of your clients with recent launches to promote their new businesses just before or after making a big jump out of an airplane, off of a high dive in a pool, or bungee-jumping off of a bridge. Your clients will never forget their industry debut. See full idea




6. Highlighting the acoustics of your heritage building with musical performances

Idea by Tymon Villanueva

Enhance the public's interest in your heritage building's architecture by creating a regular musical performance on site, highlighting the intricate acoustics. These performances take the form of an instrumental ensemble playing multiple pieces of music, with each one being played in a different room of the building. Elevate the experience with projections behind the musicians that show a scene that would have happened in that room during the building's prime. See full idea




7. Present an augmented race track illuminated like a video game circuit

Idea by Fionn Trujillo

Present an augmented sports experience for runners, cyclists, motorcyclists, or even rally cars, that takes the form of a race track illuminated with various multimedia elements; designed specifically for events that take place in the dark, this track will be lit up like a circuit you'd find in a video game with arrows that light to direct the racers, projections that racers have to touch or ride through in order to accumulate points, and other fun bonus features. See full idea




8. Pop-up silent disco. No sound, no problem!

Idea by Philippe Larose Cadieux

Create a large event with absolutely zero potential of noise complaints by hosting a popup Silent Disco where all the attendees will wear their headphones and sync up their devices to experience what will feel like a wild event but take place in a silent atmosphere. Use an app that allows attendees to connect and listen to whatever the DJ is playing through their headphones and be completely synched up with the other attendees around them. See full idea




9. Put a literal spin on the concept of networking with a digital wheel of fortune

Idea by Umer Lewis

Add value to your networking events and guarantee your eventgoers talk to each other with a digital "wheel of fortune". The digital wheel is linked to an app that users need to register with in order to use, and then allows them to spin the physical wheel that will eventually stop on a fellow participant's name. The app then digitally connects the two participants so they can chat and meet. Allow online attendees to also spin a virtual wheel on the app to connect with other online participants. See full idea




10. Throw off-season pop-up festivals on your premises to tap into a new clientele

Idea by Ann Pickett

Partner with local festivals to throw off-season pop-up festivals on your company's premises, each one having a different focus. The various themes of these pop-up festivals can range from music, to art, to film, and even food. By creating these pop-up events, you not only are able to tap into different groups of festival attendees, but your company is also able to attract the attention of different branches of media. See full idea




11. Split attendees by interest and give them a wristband to stimulate conversations

Idea by Philippe Larose Cadieux

Make your event attendees feel comfortable chatting with each other by offering to each participant a bracelet whose color corresponds to their interest. This will make it easy to identify people with common interests and to approach them to strike up a conversation and pursue business opportunities. Activities during the event can also be grouped by bracelet color, in order to increase participants' interest and facilitate exchanges between participants. See full idea




12. Host pop-up dance performances celebrating the origins of your products

Idea by Ann Pickett

Host pop-up dance performances celebrating the culture and country that your products originate from, specifically featuring their ingredients or materials. Offer regular immersive themed pop-up evenings at your branches that see a change in décor, music, employee uniforms, and the dances to completely transport your customers to another country. See full idea




13. Kick off the season with an exciting opening race event

Idea by Umer Lewis

Invite clients to kick off the season with a race that corresponds to the industry your business falls into; a bar could have patrons race through a series of fun drinking games, a ski resort can set up an obstacle race on the mountain, etc. The competitor who comes in first wins the first beer of the season, the first run down the hill of the season, or be your first customer of the season in whatever way suits your business, as well as a season's worth of perks and discounts. See full idea




14. Send out mysterious invites to an exclusive event to your potential customers

Idea by Umer Lewis

Send out mysterious invites to the people of your community to an exclusive event hosted by your company. Reach out to popular venues in your community to potentially host your event at their establishment with the promise of bringing them lots of business in return. Upon arrival, representatives from your company will greet your guests and then proceed to make intermittent presentations throughout the night while everybody enjoys the entertainment at the event. See full idea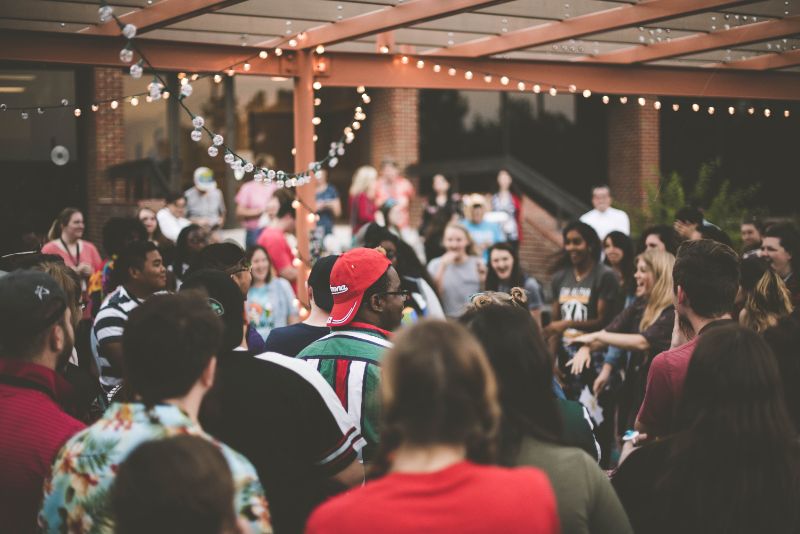 FAQ

Q1. What is event marketing?

A. Planning, organising, and carrying out an event with the intention of promoting a company, good, or service is known as event marketing. Companies can either host an event, attend as an exhibitor, or take part as a sponsor. Events can take place offline or online.

Q2. What are the different types of events?

A. There is numeroustypes of events. Here are some of the most popular:

Conferences

Trade Shows and Expositions

Seminars

Pop-Up Shops

Launch Parties and Celebrations

Workshops

Online events

Webinars

Q3. What types of audiences can be reached with events?

A. Event marketing can reach both clients and customers:

B2C - When you advertise your event to a target audience directly in the hopes that they would sign up as attendees, purchase tickets, and/or invite their friends and peers to join them.

B2B - When you offer your event to other businesses, whether to encourage their employees to attend, to get the firm involved as an exhibitor or even as a sponsor
Ready to plan and promote your events?
The right event marketing strategy can undoubtedly assist you in creating a successful event that creates one-on-one interactions, increases brand awareness, and generates business. Search for more Event Marketing Ideas to differentiate yourself and unleash your maximum potential on Wittycloud.